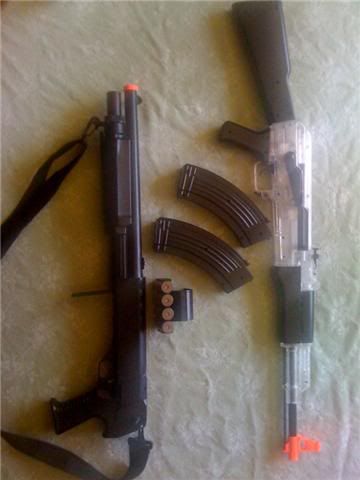 I'm selling two backups in the Carson City area.
The first is an AK made for close-quarters spray n' pray. The spray on this thing is rediculous, but don't expect to hit something far away. Made for getting close to your enemey and then holding down the trigger as they have nowhere to go. I included and extra clip as because of this it runs out of ammo quickly, but I assume you are not going to use it as a primary. It is missing the charger, so I reduced the price to 30. Not a problem for those with an universal charger or a simliar 6V charger. - 30$
The next is a personal favorite of mine, but due to certain events I need to part with it. It is a metal-inside, single-shot shotgun with cartrage injector that can hold 30 rounds a shell for a total of 120 rounds before needing to refill. I chose a single shot because I felt it got a higher FPS and more accurate than most I have seen. I used this as a primary for a while before I swapped to my current weapon. Strap onto your back and have a permanent plan B for any situation. No need to recharge or refill on the battlefield and the shell ejector makes reloading a few seconds tops. - 70$
I DO NOT accept trades / OBOs and require cash. Any questions TEXT me at 775-220-9362.